News
Tourism: Morocco launches an assault on the French market
By Ismail Benbaba on 09/21/2022 at 00:01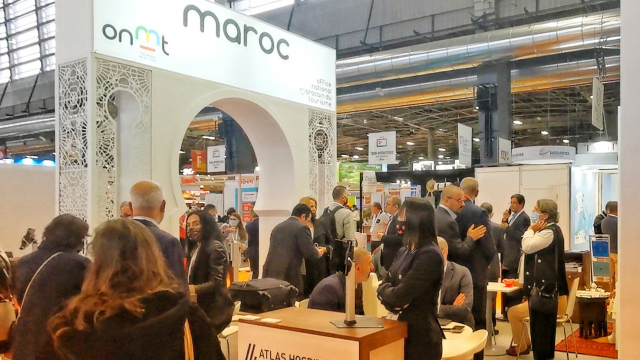 The Moroccan stand at the IFTM Top Resa show in Paris
© Copyright: DR
Kiosk360. Morocco's presence at the IFTM Top Resa show, which started yesterday in Paris, is remarkable. The objective of Moroccan professionals is, among other things, to reaffirm their ambitions on the French market, the leading issuing market. This article is a press review of L'Economiste.
In its issue of September 21, The Economist is interested in the tourism sector, in particular Morocco's participation in the IFTM Top Resa show which started yesterday in Paris.
The daily reports that this show is an opportunity for professionals to position themselves during this recovery phase. He also underlines that the interest of this post-Covid edition is to reaffirm the ambitions of Moroccan operators on the first issuing market. According to professionals, this event is a showcase that allows Morocco to show its many tourist facets. "The idea here is to present cultural and seaside destinations, well-being, nature and the desert," says Adil Terrab, president of the Meknes Prefectural Tourism Council.
Note that Dakhla operators will be invited to present their products. The daily indicates that officials in charge of tourism in the city have already met with officials of FRAM (Fer Route Air Mer), which is a group active as a tour operator and travel agent.
The daily adds that Top Resa is the only B2B show which brings together all the professionals of the tourism industry in France each year. It is a show which is spread over 4 days with more than 34,000 visitors, French and international buyers, travel agents, distribution and production professionals.
The newspaper points out that the many events, conferences and evenings organized during the show allow an entire profession to discover new trends, to acquire expertise around topical themes, to discuss issues and the future of the tourism industry and to share moments of conviviality.
"The support and securing of direct air connections between Morocco and France, the multiplication of partnerships with French tour operators and travel prescribers as well as the launch of the international campaign (Morocco, land of light) are already giving very good results and the Morocco destination is gradually regaining its 2019 performance levels," says the CEO of the ONMT in France. The Economist recalls that the promotional campaign aims to position Morocco among the world's most coveted tourist destinations.
Source link