sport
UCI awards Order of Merit to Moroccan Mohammed Belmahi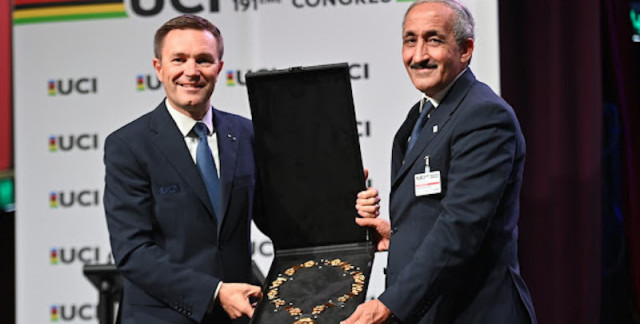 The Union Cycliste Internationale (UCI) appointed, on Thursday in Wollongong (Australia), the Moroccan Mohammed Belmahi, president of the Royal Moroccan Cycling Federation (FRMC), ambassador of this international sports body, during its 191st Congress, which stands on the sidelines of the Road World Championships (September 18-25).
Mr. Belmahi, member of the UCI management committee, of the executive committee of the Moroccan National Olympic Committee (CNOM) and of the Arab Cycling Union (UAC), was awarded the "UCI Merit" Order on this occasion. in recognition of the commendable services he has rendered to Moroccan cycling, in particular, and to African, Arab and world cycling, in general, through his responsibilities within several bodies, we learn from the FRMC.
This high distinction from the UCI rewards personalities who have made a remarkable commitment to cycling.
During this congress, which brings together representatives of 192 national federations from five continents, the president of the UCI, Mr. David Lappartient (France), member of the International Olympic Committee (IOC), highlighted "the qualities, the seriousness, courage and dedication" of Mr. Belmahi who, for several decades, has devoted himself entirely to promoting the values ​​of sport, good governance, the popularization and development of cycling as a leader, to national, continental (representative of Africa), Arab and world (member of the UCI Management Committee – President of the Para-cycling Commission) level.
Speaking on this occasion, Mr. Belmahi expressed his joy for this important distinction which testifies to the confidence enjoyed by Morocco and its pioneering role in supporting this sport, particularly on the African continent.
The President of the Royal Moroccan Cycling Federation considered that this international distinction "comes at the right time in recognition of the work done for the development of Moroccan cycling. A recognition of the sports strategy adopted by Morocco with a view to popularizing the ideals of peace, the protection of the environment, the rapprochement of peoples and the practice of sport, under the enlightened leadership of HM King Mohammed VI".
Mr. Belmahi did not fail to point out that the Kingdom of Morocco "is one of the few countries in the world whose fundamental law enshrines the right to sport as an inalienable right of citizens and elevates it to the rank of lever for development. human".