News
UN General Assembly: opening of the general debate with the participation of Morocco
By Le360 (with MAP) on 09/20/2022 at 6:04 p.m.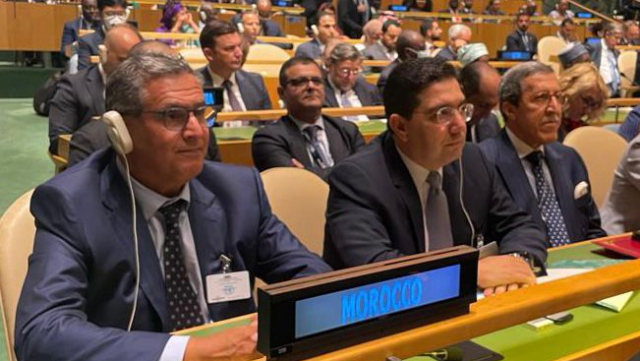 Aziz Akhannouch and Nasser Bourita participated in the work of the high-level debate of the 77th session of the United Nations General Assembly, Tuesday, September 20, 2022, in New York.
© Copyright: DR
The work of the high-level debate of the 77th session of the United Nations General Assembly opened on Tuesday, September 20, 2022 in New York, with the participation of the Heads of State, Government and delegations of the 193 Member States of the UN, including Morocco.
During this week-long event, a planetary high place for decisive meetings and an opportunity for bilateral and multilateral meetings, the head of government, Aziz Akhannouch chairs the Moroccan delegation.
Aziz Akhannouch is accompanied to this session by the Minister of Foreign Affairs, African Cooperation and Moroccans Living Abroad, Nasser Bourita.
Under the theme "A watershed moment: transformative solutions to interconnected challenges", the 77e UN General Assembly, which takes place from September 13 to 27, plans a series of meetings to discuss issues that keep the international community on their toes, including the food and energy crises, the climate emergency and efforts to boost a new dynamic to achieve the Sustainable Development Goals (SDGs) by 2030.
During this UN high mass, which is regaining color after two years of crisis linked to the Covid-19 pandemic, the heads of state and government, heads of international organizations and representatives of civil society set out their visions. and examine the prospects and solutions for transforming the current state of affairs with a view to a world where peace, prosperity and solidarity prevail.
Standing at the green marble podium in the General Assembly grounds, United Nations Secretary-General Antonio Guterres called for a coalition of the willing to address the challenges facing all of humanity.
"This global coalition must urgently overcome its divisions and act together," he said, noting that the fundamental mission of the United Nations is to establish and maintain peace.
The head of the UN insisted, in this context, on the imperative to continue to work for peace, in compliance with the Charter of the United Nations and international law.
Traveling through the crises that are affecting several parts of the world, Antonio Guterres stressed that the international organization remains committed to making the most of all diplomatic tools for the peaceful settlement of disputes, as provided for in the United Nations Charter: negotiations, mediation, conciliation , arbitration and judicial settlement.
Source link