News
Video. Tuareg crafts, a wealth of Nigerian and Amazigh culture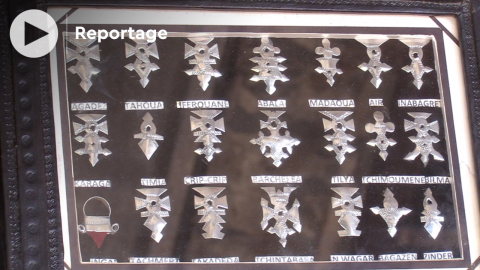 #Other countries : The nomadic Tuaregs are a people of Niger that can also be found in several neighboring countries. They occupy an immense territory which crosses the Sahara from North to South. It is a people known for its very rich craftsmanship, especially with its silver and leather articles.
The Tuaregs are scattered in all regions of Niger, in particular all of the regions of Agadez and Tahoua, the northern part of the regions of Dosso and Maradi, the center and north of the region of Zinder and the west of the region of Diffa. , the west and the north of the Tillabéri region.
Among the distinctive aspects of Tuareg culture, we can cite clothing, food, language, poetry, religion, arts, astronomy, nomadic architecture, traditional weapons, music, films, games and economic activities. Their Berber heritage is confirmed by the use of the alphabet (tifinagh) and the same linguistic base: Tamasheq.
>>> READ ALSO: Video. Niger: artisans facing the scarcity of tourists
In Niamey, one can very easily immerse oneself in this Tuareg culture through the objects of art very visible in several sites, such as the artisanal village, the national museum and even at the castle 1 where several shops of objects of Tuareg arts are available. Among these objects, we distinguish all the Tuareg pendants called "cross" and which have in common their manufacturing technique and a fairly similar formal aspect. The most famous being the cross of Agadez. In fact, there are 21 crosses in Niger representative of the 21 Tuareg towns.
"For a long time these crosses were worn as a pendant before they were put in paintings. In this table, there are 21 Niger crosses. They represent all the Tuareg regions. But the first cross is that of Agadez. Before, if a Tuareg assembly had to be held, each woman carried the cross of her region and this was what made it possible to identify her provenance. You also have necklaces made of leather and silver, talismans and purses which can also contain documents ", explains Zakaria Nango, Tuareg craftsman.
Among the products of Tuareg art, we can distinguish swords, pendants, amulets, riding crops, rings, talismans, necklaces, saddlebags, collections of crosses, outfits and leather bags … All are made by the Tuaregs whether they are men or women. And for ages, most of these Tuareg art products have been available in several sales areas throughout the country and even on the online sales sites of the largest African and French brands.
>>> READ ALSO: Video. Ivory Coast: for the fourth edition of the Handicrafts Market, more than 100,000 visitors expected
"This leather bag is used by the Tuaregs to protect teapots when traveling. It is made by Tuareg artisan women. You also have this sword which is a true symbol of Tuareg culture. Men and especially adults wear them on large boubous for parties or wedding ceremonies. The blade is made of steel. This is a Tuareg outfit worn by women, usually on the occasion of ceremonies. It is the quintessential Tuareg outfit, "describes Bachirou Elhaj Abdou, with supporting evidence in his shop in Niamey.
Tuareg art products are in great demand both nationally and internationally. It contributes to enhancing the cultural and artistic heritage of Niger in its diversity and originality. It is above all the reflection of a very rich culture, which has been able to perpetuate itself over the generations and which has kept its authenticity and its values ​​necessary for building a nation, that of Niger.