News
Wind power: Siemens Gamesa wins a new contract in Tangier
By Ayoub Khattabi on 09/23/2022 at 3:42 p.m.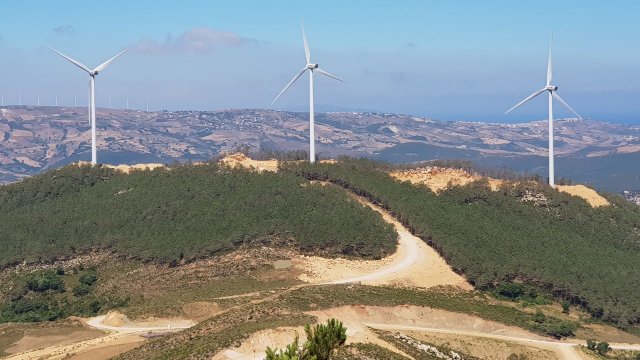 The Tangier-Dhar Saadane wind farm, with an installed capacity of 107.1 MW, i.e. a unit capacity of 850 KW for the 126 wind turbines.
© Copyright: DR
A few days after the announcement of the closure of its blade factory in Tangier, the German-Spanish company Siemens was able to land a major contract with ONEE for the operation and maintenance of the Dhar Saadane wind farm, learned Le360 from sources familiar with the matter.

The operation and maintenance contract for the Dhar Saadane site, for a period of 12 months, was finally awarded to Siemens Gamesa. The latter was able to win hands down the call for tenders launched last June by the National Office for Electricity and Drinking Water (ONEE), presenting the lowest financial offer, 20.4 million dirhams (with a share in foreign currency of 3.4 million dollars), against 5.67 million US dollars proposed by a Chinese consortium made up of the groups CRRC Dalian, CACS and Zhongtian Huineng of Tianjin.
Located 22 kilometers as the crow flies southeast of the city of Tangier, the Dhar Saadane site, whose power is 107.1 MW, includes 126 wind turbines located on a 35 kilometer mountain ridge.
The awarding of the contract to operate the Dhar Saadane wind farm comes a few days after Siemens Gamesa announced the closure of its onshore blade factory in Tangier.
"This decision to close the plant is part of the Mistral strategic program aimed at accelerating the company's recovery and designed to streamline and simplify the organization, while improving its effectiveness and efficiency", explained the German-Spanish group in a press release.
About 500 jobs will be affected by this decision. Siemens Gamesa reassured that it will support employees through the separation process, working towards a collective bargaining agreement, while exploring opportunities for internal relocation and helping employees find jobs outside. .
Source link